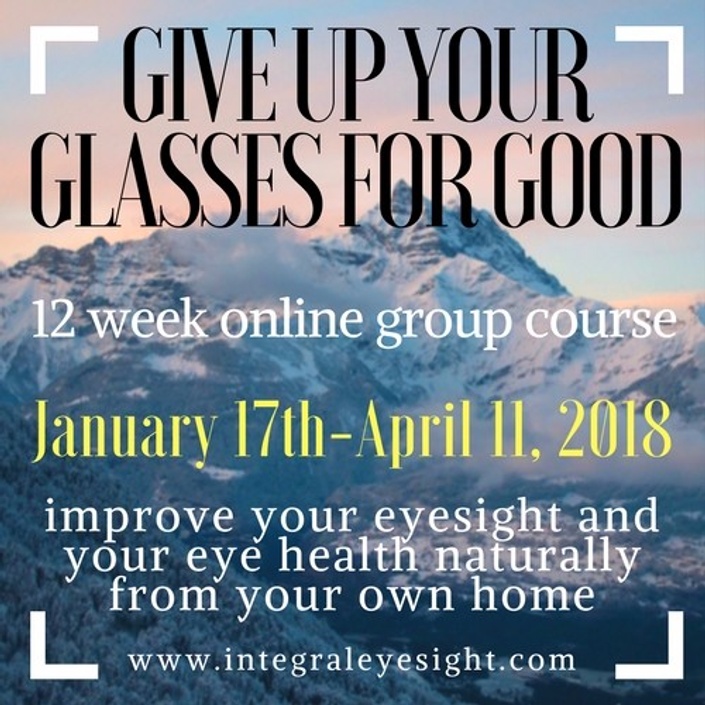 Did you know there's an easy way to prevent and reverse nearly all vision problems naturally?
I'd like to show you how!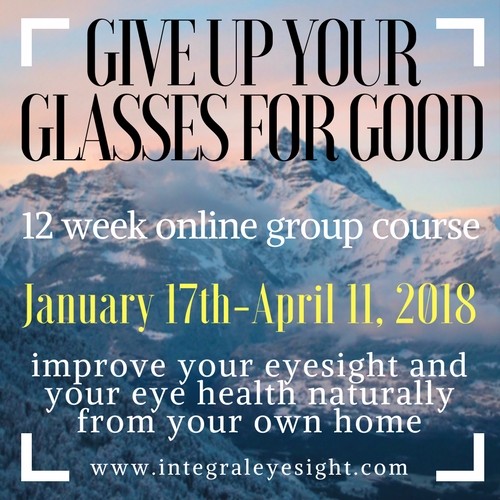 By combining written instructions, audio guides, training videos, and live classes, I have crafted a comprehensive online course that takes the guesswork and uncertainty out of natural vision training and makes the process as easy for you as possible.
Give Up Your Glasses For Good: How To See Clearly Without Lenses or Lasers is the eye care alternative you've been waiting for! Take this opportunity to join a group of other vision students going through the exact step-by-step process that I used to learn how to see clearly again and ditch my annoying glasses.
Trust me, I tried to improve my vision naturally all by myself without any help, and I only got so far. The extra accountability, commitment, guidance, and discipline you get from this structured course will help you take your eye health back into your own hands and reclaim clear vision near, far, and everywhere in between - without using glasses or contacts!


* * * * * * *

Watch the replay of my recent webinar to get a preview of this 12 Week Online Group Course...
3 Steps To Clearer Vision Naturally Webinar
* * * * * * *
It's easy! Here's how it works...
Watch 2 to 4 prerecorded videos every week...
>>Learn the physical practices & habits that improve your eyesight
Listen to 1 to 2 audio guides every week...
>>Learn the mental practices & habits that improve your insight
Tune in to live vision classes every other week, or watch the recorded replays later...
>>Review what you've learned and get your questions answered
Begin wearing weaker strength "training glasses"...


>>Gradually wean off prescription lenses as your vision improves naturally

Use the vision tools in your holistic vision kit...
>>Strengthen your eyesight and insight and make your practice a

daily routine

Read Nathan's book Give Up Your Glasses For Good...


>>Learn more about the practices taught in the course and beyond

Meet with Nathan once at the beginning of the course...
>>Review your vision history and discuss your

goals

Meet with Nathan once at the end of the course...
>>Customize

your unique

vision plan

Replay the videos and audios as many times as you want...
>>Keep working toward 20/20 vision and beyond!
When you enroll in this eye-opening 12 Week Group Online Vision Improvement Course you get…
12 Weeks of Comprehensive Vision Training to show you exactly how to begin improving your vision naturally, including…

32+ instructional videos

12+ guided audios

Dozens of downloadable PDF materials designed to teach you exactly how to structure your own home natural vision improvement practice to begin seeing more clearly on the inside and outside.

7 Live Group Coaching Calls to help you stay on track, stay motivated, and get your questions answered...

every other week to dive deeper into the training material and get your specific questions answered during the group discussion.

Paperback or eBook copy of Give Up Your Glasses For Good workbook

provides step-by-step instructions for over 50 vision enhancing practices covered in the course.

Holistic Eye Care Kit

mailed to you containing various vision tools used in the course like an eye patch, an eye wash cup, pinhole glasses, eye charts, and more.

2 Complementary Private Online Sessions with Nathan Oxenfeld

30 minute meet and greet session at the beginning of the course.

60 minute follow up vision lesson after the course.

to get one-on-one support and a customized vision training plan.

Individual and Community Support

Email support from the instructor

Access to a private Give Up Your Glasses For Good Group on Facebook

BONUSES

Perfect Sight Without Glasses by Dr. William H. Bates

The Art of Seeing by Aldous Huxley

1 Bonus Vision Chart by Ray Gottlieb
* * * * * * *

Dozens of easy to follow instructional videos showing you exactly how to perform all the vision improvement practices at home....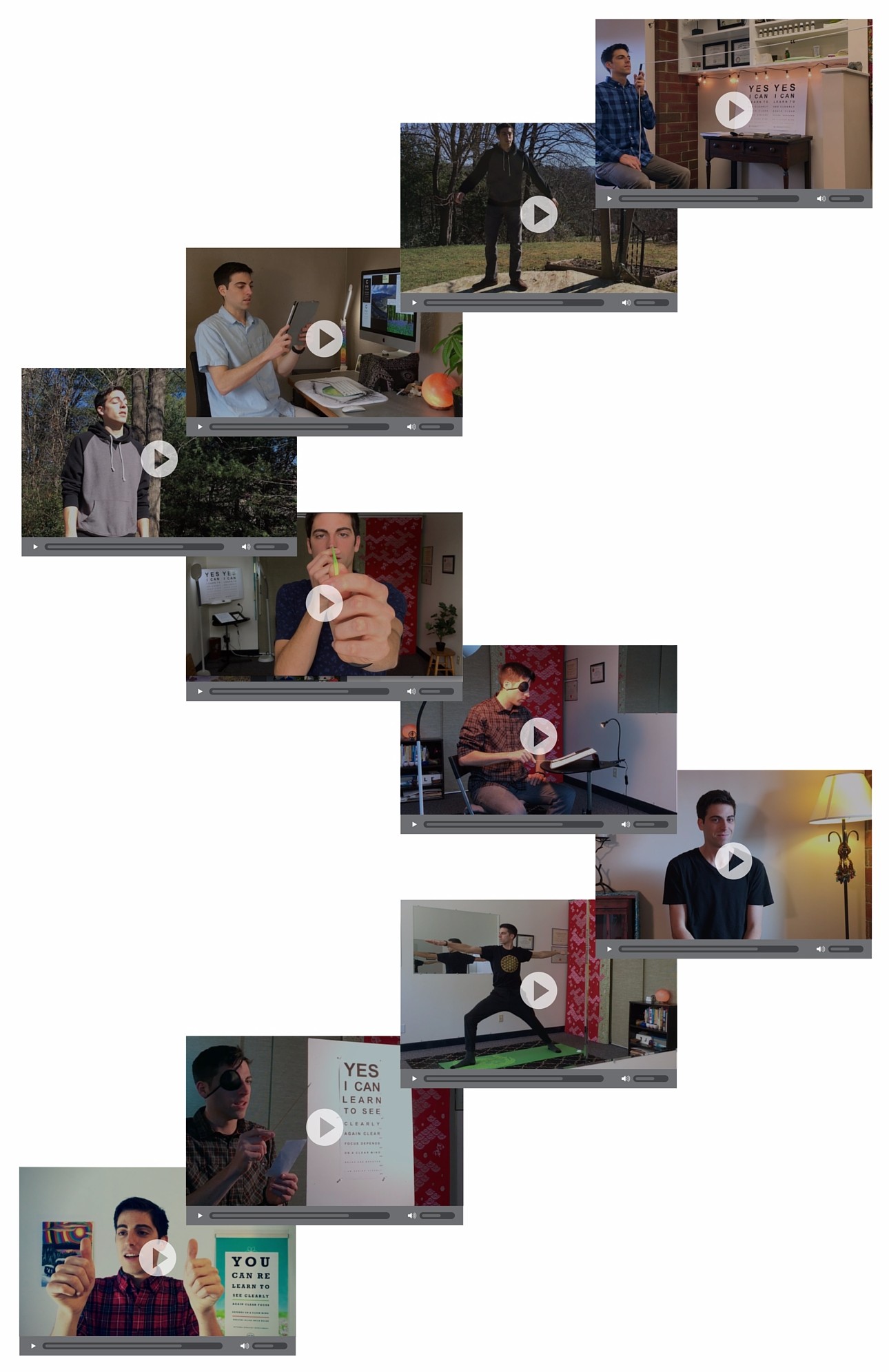 * * * * * * *

A live vision class every other week for you to tune into and get your questions answered in real time, or watch the recorded replay...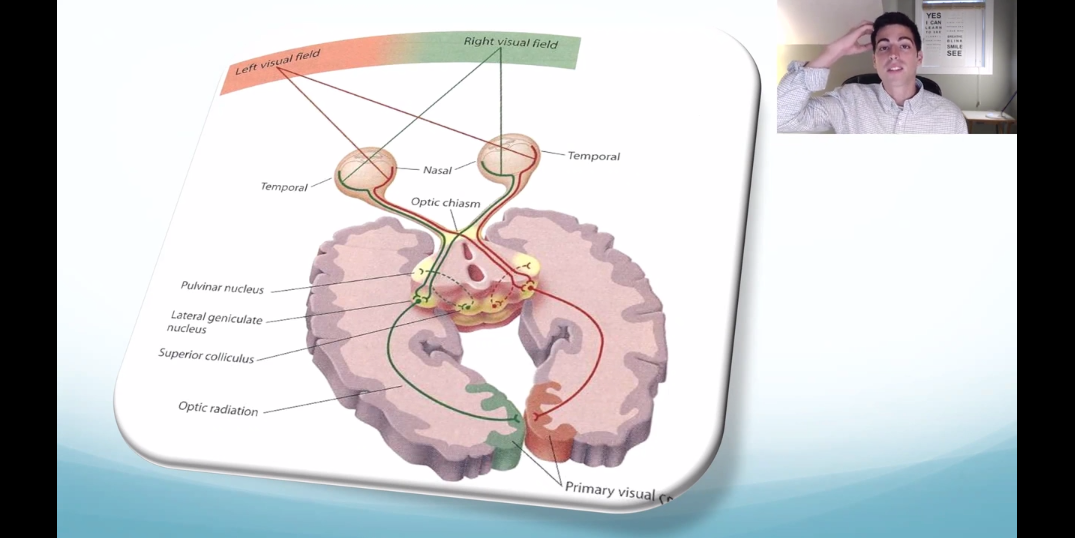 * * * * * * *

Dozens of vision tools and charts mailed to you in your Holistic Vision Kit...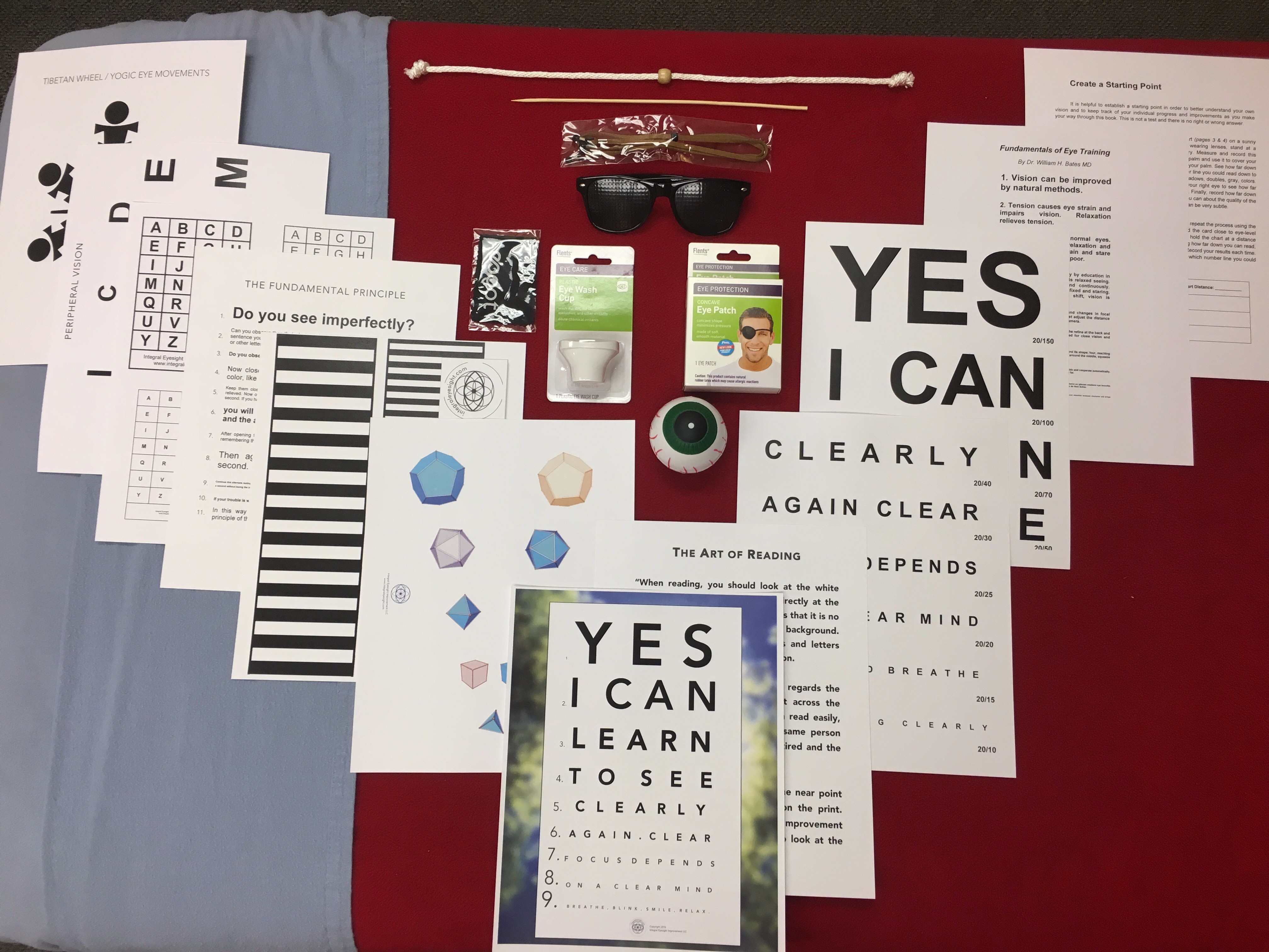 * * * * * * *

Paperback or eBook version of Nathan's 240 page book...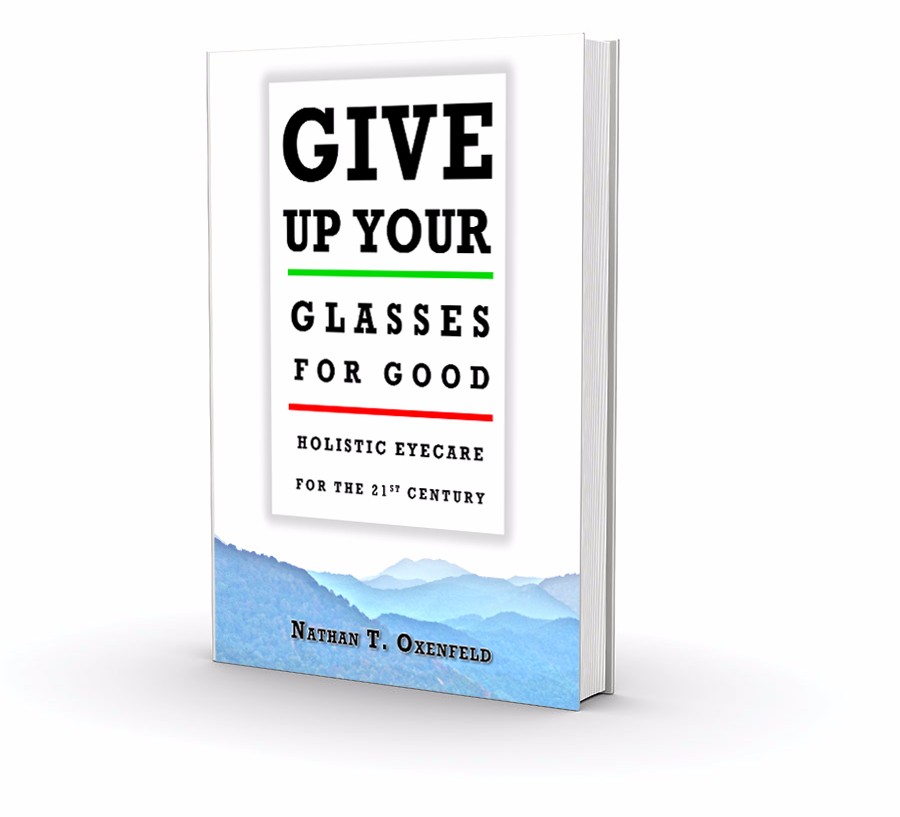 * * * * * * *

Two complimentary one-on-one vision sessions with Nathan online...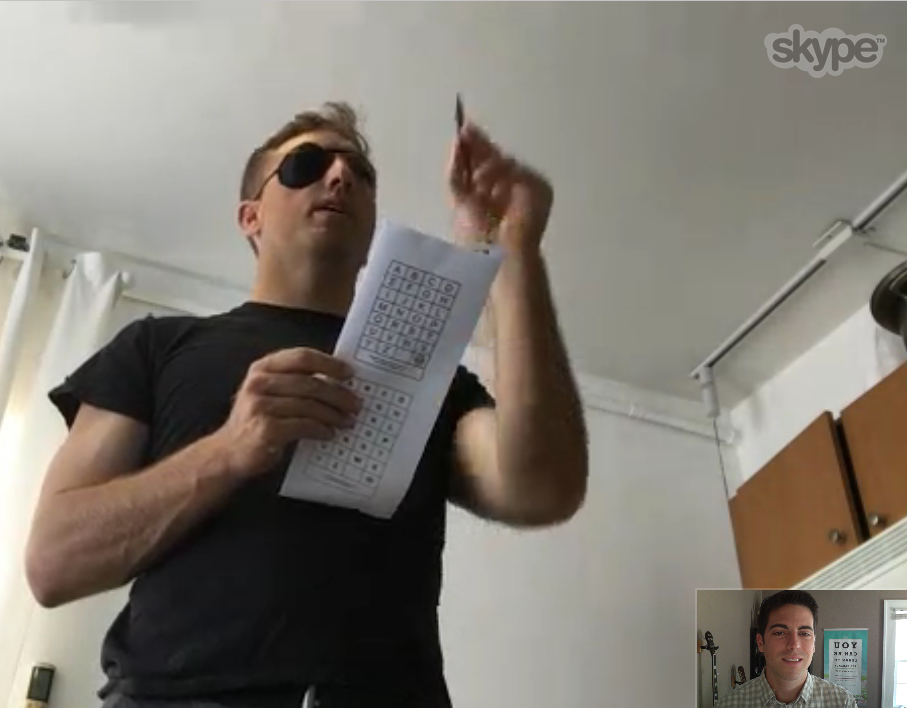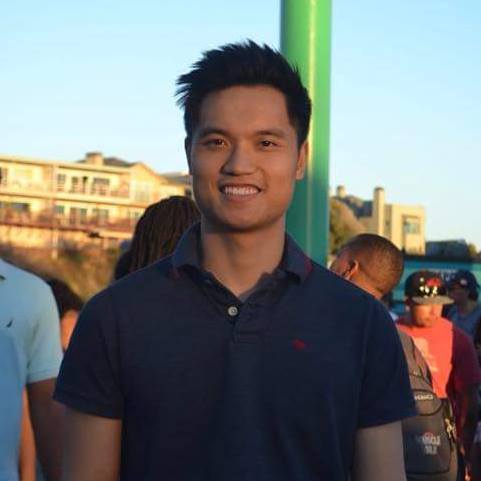 "Just came back from the eye doctor... with my old pair of glasses, this July my eye sight was 2/10 on my left eye and 7/10 on my right eye. Now with the same glasses, it is left 5/10 and 9/10 on the right. WOOOHOOOO!!!! I am so excited. It's good to know that this is working! During the eye exam, instead of squinting to try to see clearer, I just take a deep breath and relax, somehow I get a micro seconds of clarity where the letters are revealed to me. Can't wait to learn more and practice more"
- Bao N.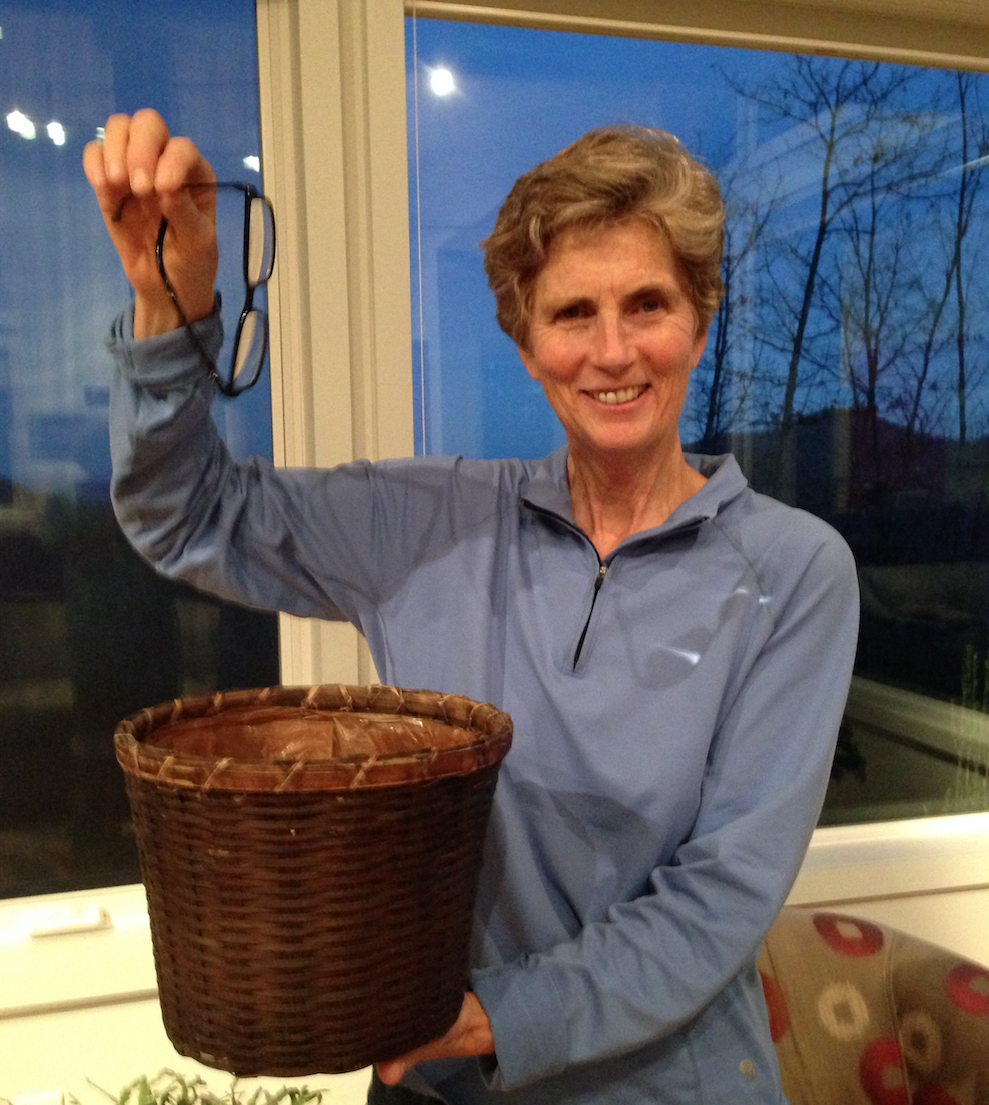 "I took Nathan's group class and he has been a good guide for me. I find I always learn something when I have a lesson, sometimes subtle, sometimes quite remarkable. After about 2 weeks on my own I noticed that I could easily see the 20/20 line on the chart and it was immensely pleasurable. There was absolutely no effort involved. One month later I was able to easily pass my Driver's License Vision Test so now after 15 years I no longer need to wear glasses when I drive!"
- Nancy P.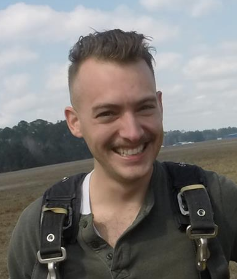 "Nathan's understanding and interpretation of the Bates method gives me much hope and confidence in my own journey to clearer vision. Since studying with him, my vision has improved from 20/400+ to 20/150. Just as any true healing of the body, this requires time and dedication to achieve the results we are reaching for. I can feel I am towards the end of having to use corrective lenses. Allow Nathan show you the path to a clearer and brighter future."
- Kevin M.
The type of holistic eye care you will learn from this course can help you prevent and/or reverse:
Myopia (nearsightedness)

Hyperopia / Presbyopia (farsightedness)

Astigmatism

Dry Eye Syndrome

Computer Vision Syndrome

Eye Strain and Fatigue

Headaches and Optical Migraines

Strabismus / Amblyopia (lazy eye)

Cataracts, Glaucoma, Macular Degeneration
and more...
The main form of vision training taught in this course is called The Bates Method.
Never heard of the Bates Method before? Give this a listen to learn who Dr. Bates was, what the Bates Method is, and how it is different than "eye exercises"...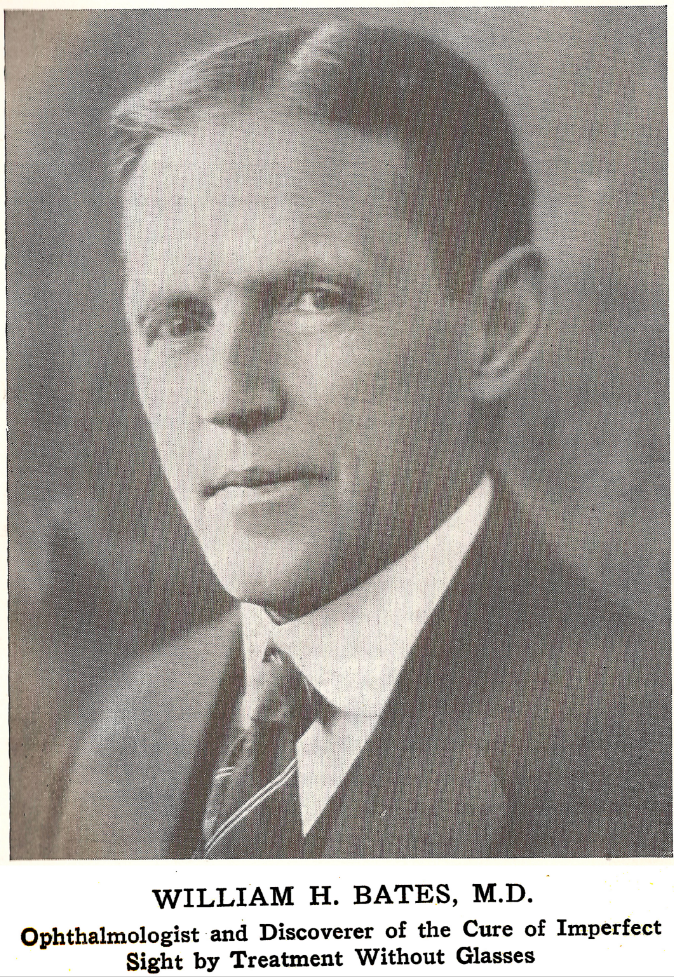 Dr. William H. Bates, M.D. devoted his life to finding a better solution to vision problems than just depending on glasses for the rest of life or getting invasive and impermanent surgeries. What he discovered is that vision problems are not just genetic or age-related, but functional in nature, and that people with poor vision were simply using their eyes incorrectly, with a lot of strain and effort involved. On the contrary, people with perfect vision used their eyes correctly, like the four other involuntary senses, in a relaxed and effortless way. By teaching people with vision problems how to use their eyes correctly, he was able to help thousands of patients regain clear vision naturally and give up their glasses for good. And now, thanks to this course, you can too!

* * * * * * *
In this course you will:

Learn how to see clearly without glasses

Use natural methods to combat common vision problems (blurry vision, nearsightedness, farsightedness, astigmatism, lazy eye, dry eye, computer vision syndrome, digital eyestrain, cataracts, glaucoma, macular degeneration, and more)

Discover many natural alternatives to glasses, contacts, and surgeries

Learn bad vision habits you need to break immediately

Integrate good vision habits all day long

Experience powerful vision enhancing practices to improve eyesight & insight

Uncover the real root cause of your vision problem

Relax your eyes, mind, and body

Explore the non-physical components of your vision

Discover and release suppressed or negative emotions effecting your eyes and vision

Understand the importance of eliminating eyestrain

Expose the negative side effects of glasses and how contact lenses suffocate your eyes

Break your addiction to your strong prescription lenses

Use "training glasses" to gradually wean down to weaker prescriptions

Encourage synchronistic teamwork between your left and right eyes

Establish a strong eye-mind connection

Expand your attention span and sharpen your mental focus

Build a daily vision improvement routine

Prevent your vision from getting worse over time

Prevent needing distance or reading glasses in the future

Boost your eye health holistically

Prevent smartphones, tablets, laptops, and computers from ruining your vision

Avoid bad foods for your eyes and nourish them with proper nutrition

Experience deep relaxation physically and mentally

Calm down your entire nervous system

Decrease your stress levels

Perform better at school, at sports, or at work

See more clearly on the inside and the outside

Improve your memory, imagination, and visualization

Express your creativity and share your unique perspective

Become aware of the negative side effects of risky laser surgeries

Take your eye health back into your own hands

Increase your confidence and clarity

Align with your life purpose and fulfill your bigger vision

Feel your emotions and heal your past

Attain your highest potential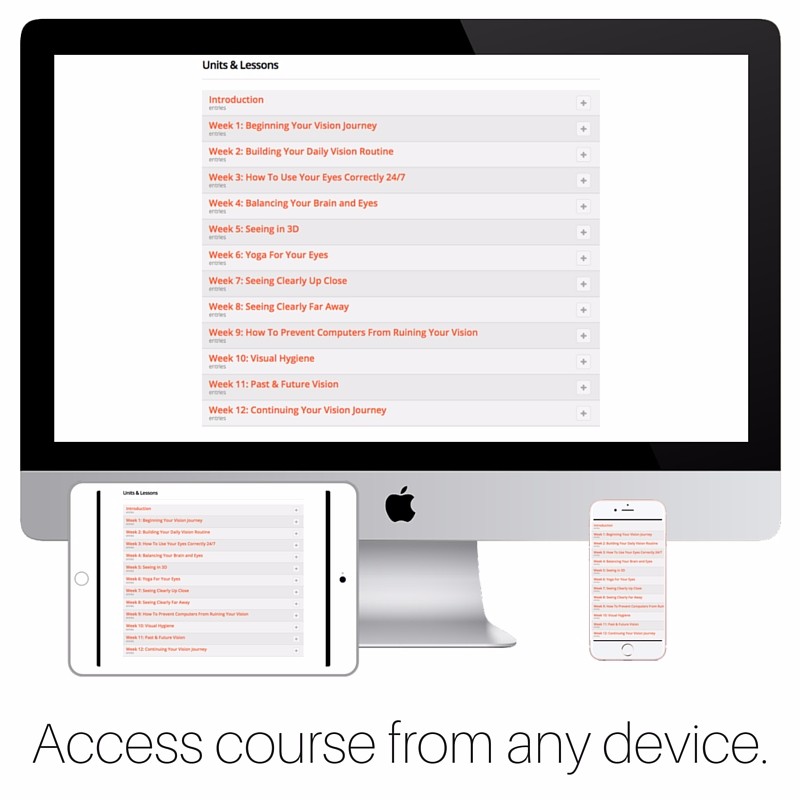 Learn which foods to avoid
and which foods to eat to
nourish all the parts of your eyes
with the vitamins, minerals, and
nutrients they need to thrive!
Your Instructor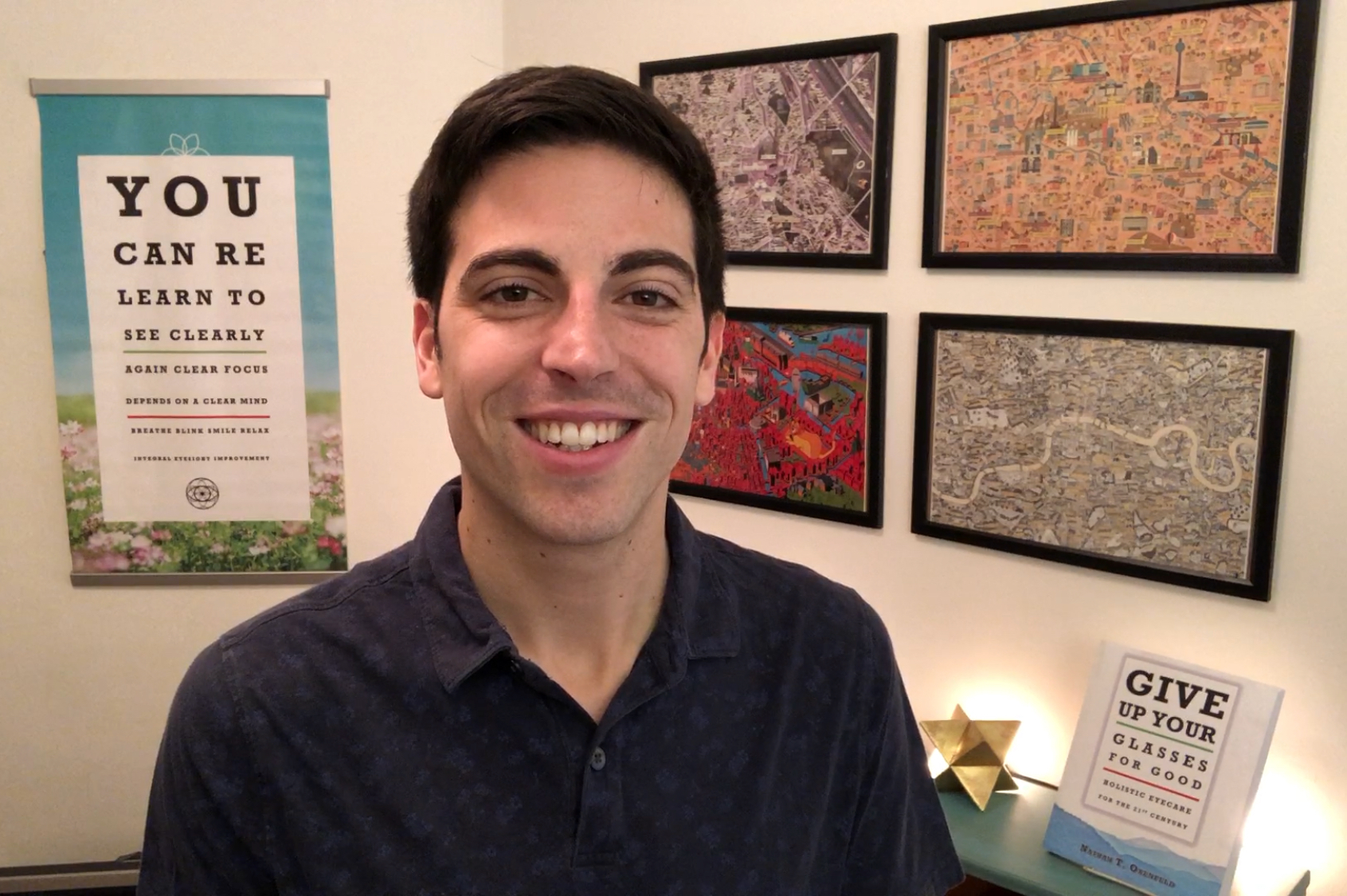 Nathan Oxenfeld founded Integral Eyesight Improvement LLC in 2013 after successfully improving his own vision using all natural methods. After depending on glasses and contacts every day for over a decade, he was introduced to the Bates Method of natural vision improvement. With time and practice, both his myopia and astigmatism decreased to the point of no longer needing glasses to see clearly. Once he saw the results in himself, he felt called to train to become a Certified Bates Method Teacher under his mentor Dr. Jerriann Taber, who has been teaching the Bates Method for over 45 years. Once certified, he opened his holistic eye practice in Asheville, North Carolina and began assisting others along their natural vision improvement journey.
In 2014 he launched his YouTube Channel called Bates Method 101, which has amassed 30 thousand followers and over 1.5 million views.
In 2015 he published his book Give Up Your Glasses For Good: Holistic Eye Care for the 21st Century and also launched The Naked Eye Podcast.
In 2016 he created the Holistic Vision Program to help people beyond Asheville learn the Bates Method in the form of an online course.
In 2017 he completed his first European Vision Tour and attended the International Holistic Vision Conference.
In 2018 he released an updated edition of his book, and went on book tours across the United States.
In 2019 he created his 6 Month Vision Improvement Program and started The Better Eyesight Podcast.
In 2020 he released The Computer Eyes Program specifically for children who use screens for school, as well as the first documentary about natural vision educators called Vision 2020: From Eyesight To Insight.
Over the years he has spoken and taught nationally and internationally, has hosted multiple immersion-style vision retreats, and has joined the board of the Association of Vision Educators. Nathan has a deep passion for opening people's eyes to new possibilities with their vision.
What exactly will you learn in this 12 week course?
Introduction

Welcome Webinar Course Orientation
My Story & Dr. Bates' Story
Creating Your Starting Point

Week 1 – Beginning Your Natural Vision Improvement Journey

Breaking Your Addiction to Prescription Lenses

Mental Focusing Practice #1

Week 2 – Building Your Daily Vision Routine

Moving Your Eyes – The Long Swing

Feeding Your Eyes – Sunning

Relaxing Your Eyes – Palming

Mental Focusing Practice #2

Week 3 – How To Use Your Eyes Correctly 24/7

The Fundamental Principle: Centralization

Mental Focusing Practice #3

Week 4 – Balancing Your Brain and Eyes

Fusion, Tracking, & Eye Teaming Practices

Brain Balancing Practices

Mental Focusing Practice #4

Week 5 – Seeing in 3D

Improving Depth Perception

Convergence and Divergence Practices

30 Minute Vision Improvement Routine

Mental Focusing Practice #5

Week 6 – Yoga For Your Eyes

Yoga Class for Eye Health

Week 7 – Seeing Clearly Up Close

Preventing & Reversing Farsightedness with Reading Practices

Mental Focusing Practice #7

Week 8 – Seeing Clearly Far Away

Preventing & Reversing Nearsightedness with Eye Chart Practices

Mental Focusing Practice #8

Week 9 – How To Prevent Computers From Ruining Your Vision

Tips & Techniques For Technology-Proofing Your Eyes

How To Use Pinhole Glasses

Mental Focusing Practice #9

Week 10 – Visual Hygiene

Diet, Nutrition, and Supplementation for Eye Health

Mental Focusing Practice #10

Week 11 – Your Past and Future Vision

Clarifying & Healing Your Emotional Past

Clarifying & Embodying Your Future Vision

45 Minute Vision Improvement Routine

Mental Focusing Practice #11

Week 12 – Continuing Your Natural Vision Improvement Journey

Creating A Progress Point

How To Continue Your Practice

Extra Relaxation Practices

Mental Focusing Practice #12
Learn how to prevent screens
from damaging your eyes and
decreasing your vision.
Frequently Asked Questions
When does the course start and finish?
The course officially begins on Wednesday, January 17th, 2018 with a Welcome Webinar and Course Orientation happening at 2:00 pm EST. You will find the link to this class inside the course website once you enroll. The class, and all the live classes, will be recorded and you will be able to watch the replay later if you can't attend live. The course officially ends on Wednesday, April 11th, 2018 with the sixth and final Live Vision Class. Although the course ends in April, your own vision practice will continue beyond April, and the course will show you exactly how to continue practicing after the course ends.
How long do I have access to the course?
How does lifetime access sound? After enrolling, you have unlimited access to this course for as long as you like - across any and all devices you own. In fact, the instructional vision practice videos are meant to be watched more than once. The more you watch them, the more you will memorize the practices and habits, and the vision practice will keep infusing and integrating into your everyday life and activities.
What if I am unhappy with the course?
We would never want you to be unhappy! If you are unsatisfied with your purchase, contact us within the first 3 months and we will give you a full refund.
How long will it take to improve my vision naturally?
That differs for each person. Everyone's eyes and minds are unique, so it really depends on you. Typically people begin to experience the first initial changes and improvements within a few days or weeks of repeating the vision practices. Then it is a matter of continuing the vision routine regularly until the changes and improvements begin to last longer and become more noticeable and permanent. For some that phase takes weeks, for others it may take months or years. Factors to consider include your age, the strength of your glasses, the length you've worn glasses, your current occupation, your diet, your activity levels, and your emotional & psychological background.
How much time is required of me?
The weekly videos for you to watch range from 5 minutes to 50 minutes. The live vision classes every other week will last about an hour each, including Q&A time. Aside from the time it takes you to watch the course content, you will also need to devote between 5 and 30 minutes a day to repeating your own daily vision routine. But improving your vision naturally isn't ONLY about how much time and how many practices you can do each day. Improving your vision naturally requires changing the way you use your eyes all the time, becoming more aware of your vision habits throughout the day, and starting to take better care of your eyes every day by promoting relaxation and avoiding strain. One of my goals in this course is to show you how to make your entire life become your vision practice, so you can learn how to keep your eyes relaxed and focused all day and all night long, whether at school, at work, at home, or out on the town. There are ways that you can turn preexisting activities you already do INTO natural vision practices, which I think is pretty exciting.
What if I live in a different time zone and cannot attend the biweekly Live Vision Classes at 2:00 pm EST?
All of the Live Vision Classes will be recorded and the replays will be posted on the course website for you to watch when your schedule allows it. Part of the Live Vision Classes involves a Q&A session where you can get your questions answered. Even if you can't attend live, you can still submit your questions to me, and I will answer them for you in the live class so you can find out your answer when you watch the replay.
Why isn't the Bates Method more well known?
Although the Bates Method has been around for over 100 years, the $50 billion a year optical industry has kept it out of the mainstream. Your eye doctor has probably never mentioned this to you before because it may not be in their best interest to eliminate your need for glasses, because glasses sales is one of their primary sources of income. In addition to the commercial aspect, there exists an ideological issue too. Many orthodox eye care professionals not only ignore Dr. Bates' proven research, but they often dismiss all natural alternatives to the conventional eye care model, which is unfortunate. Sometimes change comes slowly.
Are you an eye doctor?
No. I am a certified Bates Method and Yoga teacher. I do not test or prescribe eyes, I simply offer eye education through guided instruction in and application of natural relaxation methods. The primary practice taught in this course, the Bates Method, was developed by the ophthalmologist, Dr. William H. Bates OD, who wrote the book Perfect Sight Without Glasses, published 11 years of Better Eyesight magazine editions, conducted over 40 years of medical research into natural approaches to eye care, and whose contributions to the field of vision science have assisted many thousands of people in preventing, reducing, and reversing many different kinds of vision problems.
Will I have to practice this for the rest of my life?
Not necessarily. The aim of this course is not necessarily to 'strengthen' your eyes or eye muscles, but rather 'relax' them. Unlike weightlifting where you begin to lose your results if you stop lifting weights, this form of vision training retrains the eye muscles to stay relaxed and function more normally and automatically. Once your eyes relearn how to see, they don't really want to go back to seeing blurry. It's like muscle memory. When your eyes learn how to stay relaxed, you start getting short flashes of clarity. Once your brain starts to figure out what works to bring more clarity, that simply becomes the new way you see all the time, 24/7. That being said, I still recommend you keep up some sort of simple maintenance practice every once in a while even after your vision improves. Think about it like brushing your teeth. Do you plan on doing that forever? Then start thinking about taking care of your eyes like you already take care of your teeth.
Is this really possible?
Yes! It worked for me and has worked for thousands of other people who have sincerely dedicated themselves to improving their vision naturally. Did you check out the testimonials above?
What if I've already had LASIK, cataract surgery, or other eye surgery?
That's okay, the Bates Method can still work for you. All surgeries are just physical ways to deal with acute vision problems or symptoms. Surgeries may fix the physical problem, but don't touch the mental, emotional, or psychological components of vision problems. That means you still have a lot to work with and you can still experience improvements in your vision. In LASIK surgery they just alter the surface of your eye without addressing the six outer eye muscles or the underlying mental/emotional root causes. So although the surface of your eye has been altered, you can still benefit from learning ways to relax all your eye muscles and relax your mind. In the case of cataract surgery, they usually remove the cataract lens and replace it with a synthetic lens, which interferes with your eye's ability to focus near. Luckily, the lens is not the only way the eye focuses, and you can learn to activate your other eye muscles to compensate for the lack of lens flexibility. Your past eye surgeries will be a factor in your healing process, but you can still obtain large benefit from approaching eye care in a more holistic way.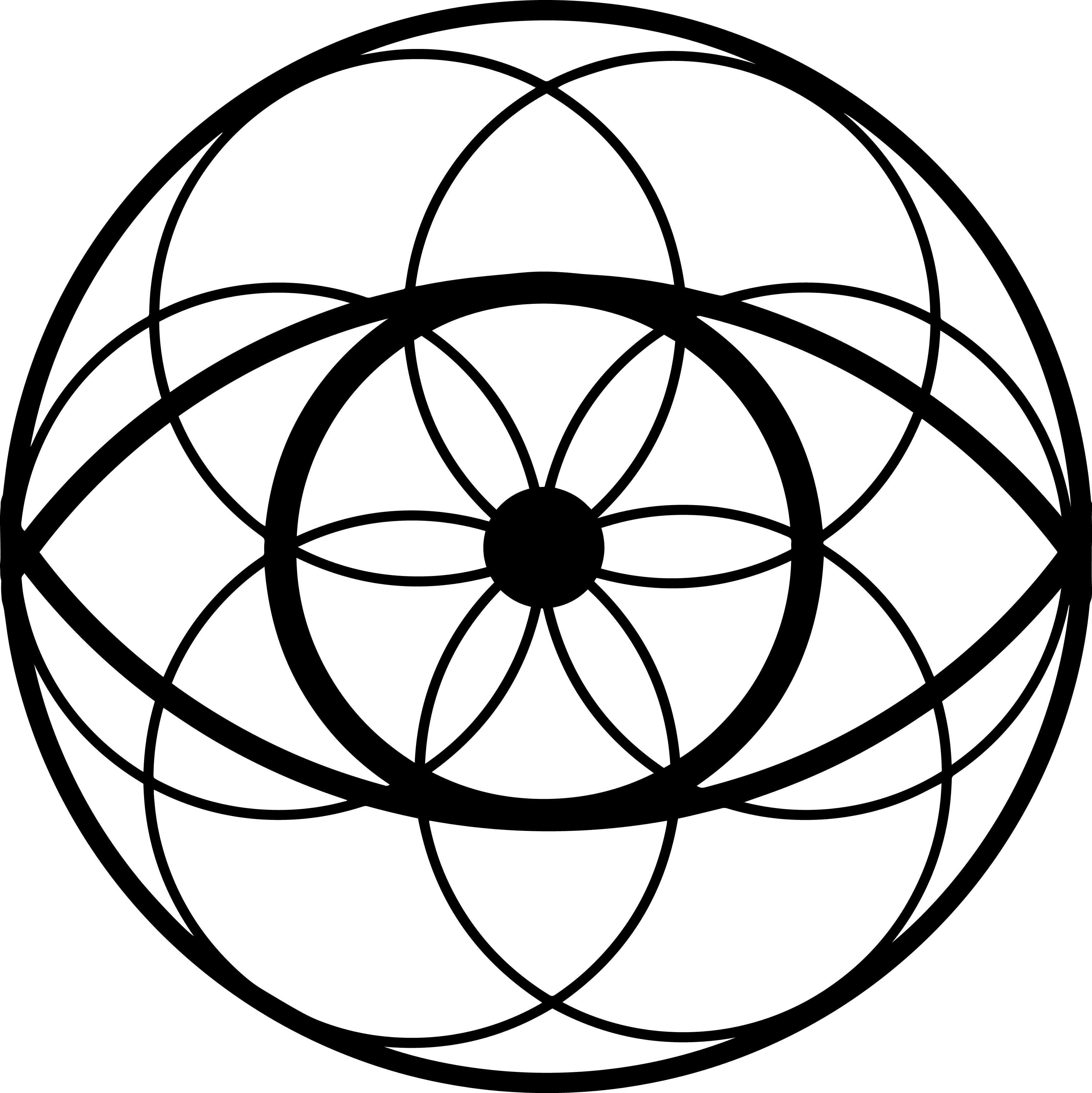 Informational Webinar on...
Wednesday, January 10th, 2018
Course begins on...
Wednesday, January 17th, 2018
and concludes on...
Wednesday, April 11th, 2018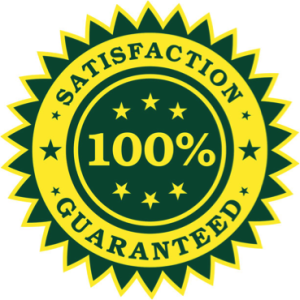 If you are not satisfied with the course, simply contact me within the first 3 months and I will honor my 100% Money-Back Guarantee.
You've got nothing to lose... except maybe your glasses!
---
Still have a question?
Email me at
[email protected]
and I will get back to you as soon as I can.
Thank you.
I LOOK forward to SEEING you inside the course!