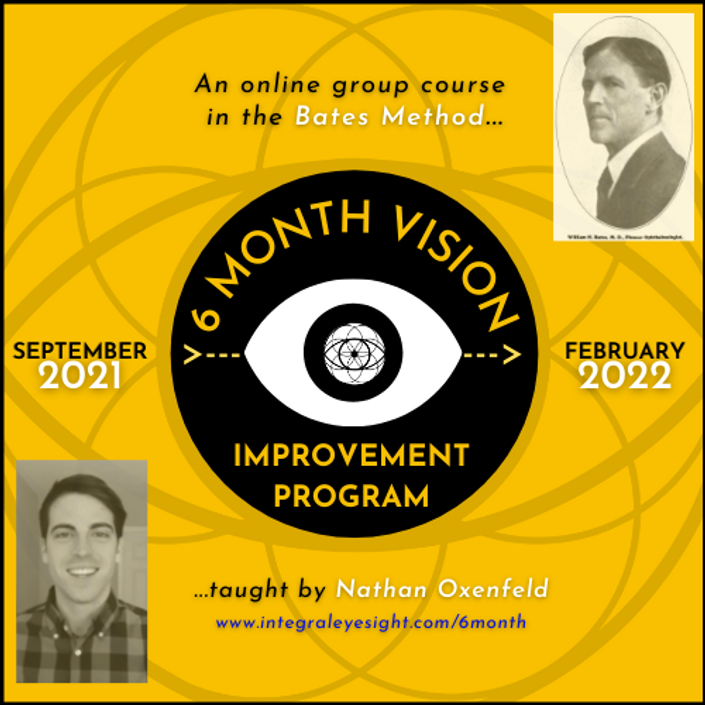 6 Month Vision Improvement Program: September 2021 - February 2022
The best way to learn and apply holistic eye care in your life to prevent & reverse vision problems using natural methods...
Enroll in Course
Watch the replay of "Six Secrets To See More Clearly" webinar above!
Learn about the 6 Month Vision Improvement Program below!
After leading over 1,000 vision students through multiple in-person and online vision improvement programs over the past 8 years, Certified Bates Method Teacher Nathan Oxenfeld is now starting his next 6 Month Vision Improvement Program that will span from September, 2021 to February, 2022.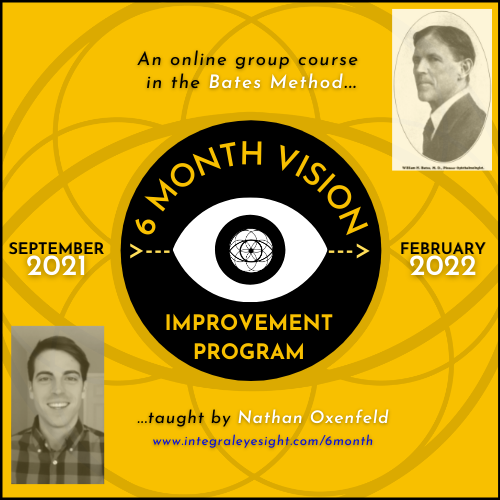 Here's how it works…

---
On the 1st Tuesday of every month, you will receive 1 vision training video to watch and re-watch throughout the month. You will follow along with this instructional video to learn the holistic vision practices that will relax your eyes and relax your mind.
(September 7, October 5, November 2, December 7, January 4, February 1)

---
On the 2nd Tuesday of every month, you will have the opportunity to attend a live group vision class online where we will all come together to review that month's material, explore correct principles and mindsets, and answer questions.
(September 14, October 12, November 9, December 14, January 11, February 8 - all classes @ 12pm Eastern US)

---
To customize the program to fit your individual vision needs, you will also get 1, 3, or 6 private one-on-one coaching session every month with Nathan.
---
For community support, you will get access to the members-only Holistic Vision Community group on Facebook, where you can interact with over 300 other vision students from around the world.
---
In addition to the videos, classes, and coaching sessions, you will also get a paperback or eBook copy of Nathan's book Give Up Your Glasses For Good: Holistic Eye Care for the 21st Century to provide written instructions.
---
All throughout the process you will also have priority email support from Nathan.
---
Your first bonus, you'll also get a 6 month subscription to the Better Eyesight Podcast, where Nathan and other natural vision teachers will be reading Dr. Bates' monthly Better Eyesight Magazines in audio format and providing some commentary and modern day examples.
+
Your second bonus is 6 months of free access to Nathan's Natural Vision Support Group, which meets once a month on Zoom for optional additional coaching and Q&A.
+
Your third bonus is free attendance to my Holistic Vision Weekend virtual retreat December 3-5, 2021 as a unique opportunity to immerse yourself in natural vision improvement for three days in a row.

---
In other words, pretty much all of Nathan's best offerings are bundled together into this one straightforward program that makes the natural vision improvement process as easy and efficient as possible – without all the guesswork.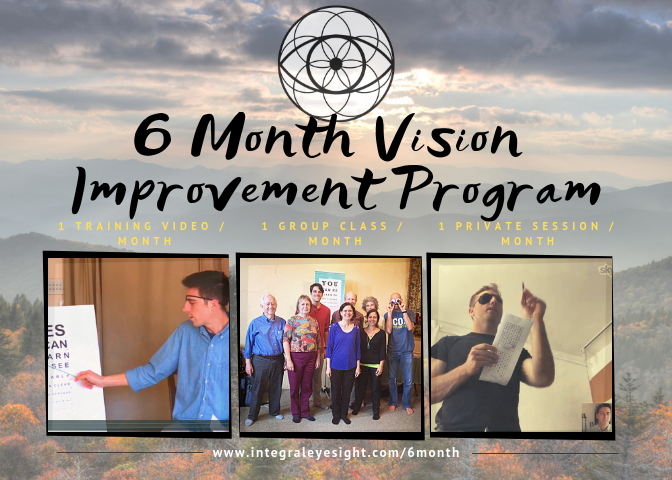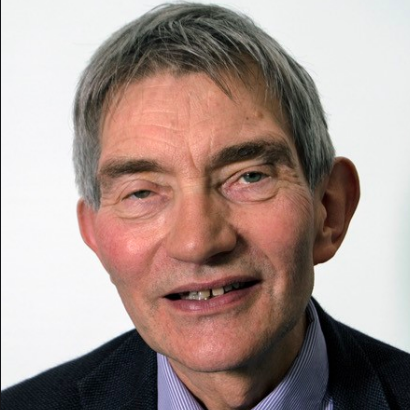 "I'd like to report success. This program definitely benefitted my vision. My visual acuity improved from 20/80 left eye and 20/100 right eye to 20/50 left eye and 20/60 right eye. Apart from improving my vision, my eyes feel better. This program contained clear explanations, plenty of back-up material such as the monthly classes, Bates' readings, one-to-one sessions going deeper in what I was experiencing."
- David C.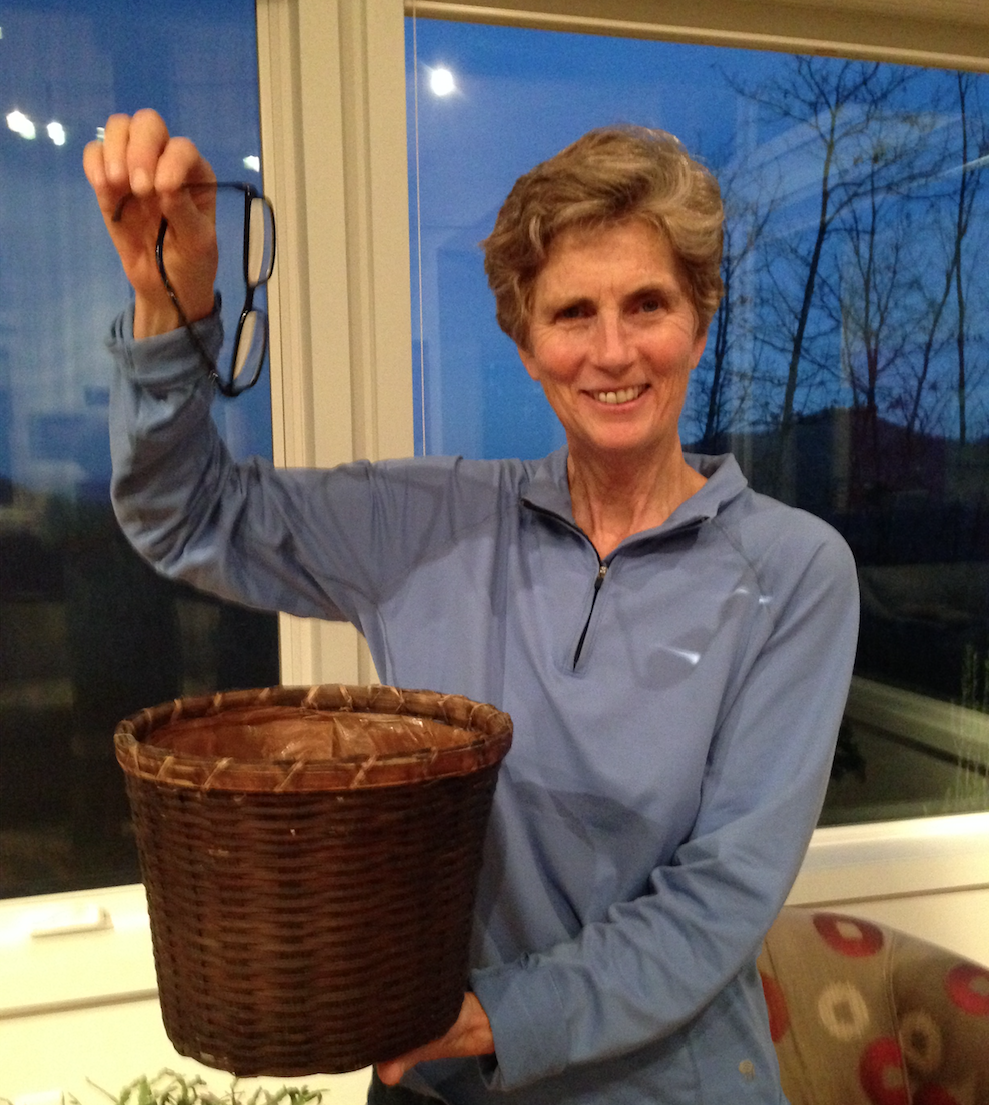 I took Nathan's group class and then did a series of individual lessons with him. I find I always learn something when I have a lesson, sometimes subtle, sometimes quite remarkable. Nathan has been a good guide for me and I will continue to make use of my sessions with him. After about 10 lessons I made my vision practice my own. One month later I was able to easily pass my Driver's License Vision Test so now after 15 years I no longer need to wear glasses when I drive!
-Nancy P.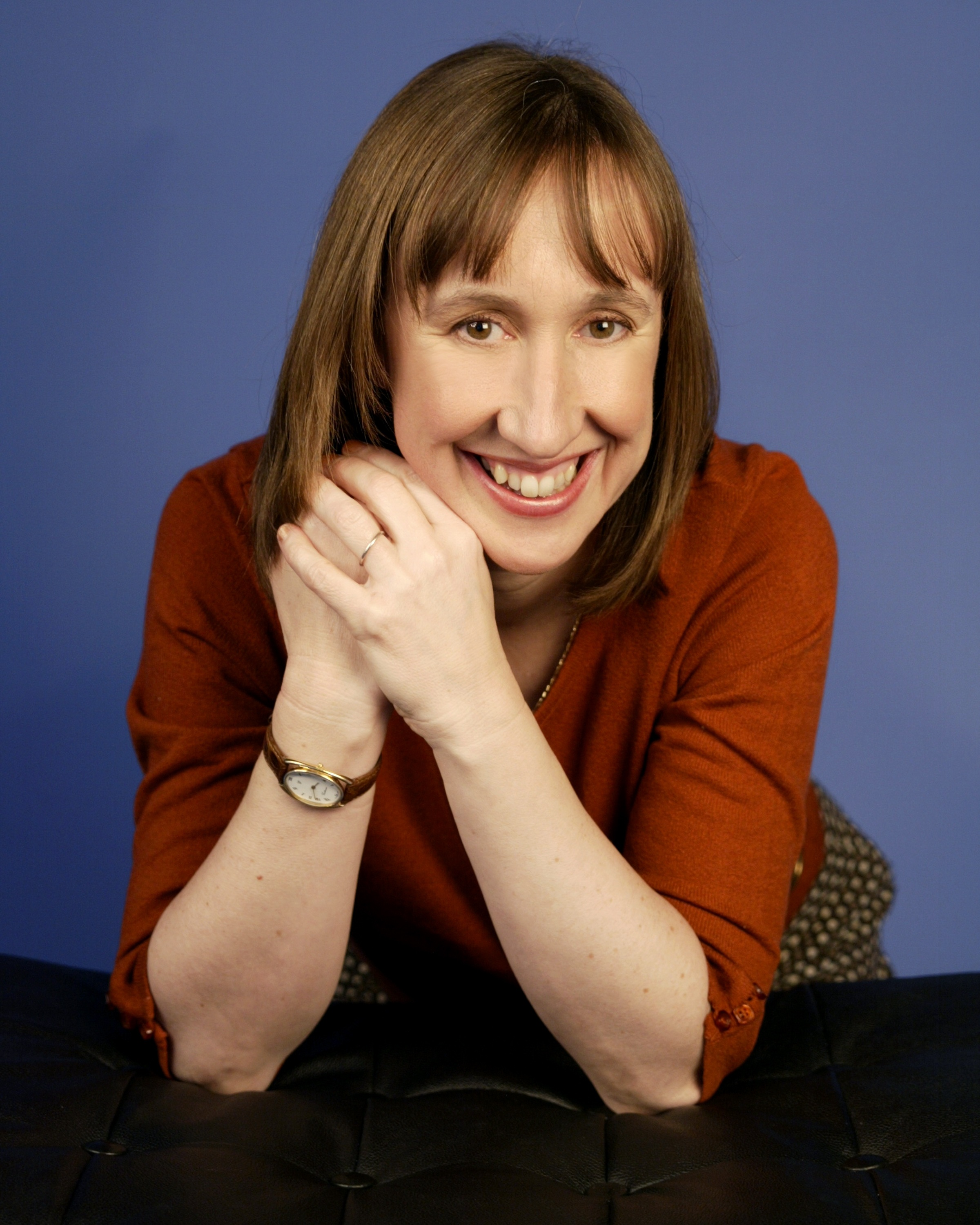 "I started working with Nathan less than three months ago. I noticed significant improvements in the first few days and weeks. I moved from being able to read just the first two lines of my eye chart right down to the 7th line in just a few weeks! Now I can read the 8th and sometimes the 9th line.
On the near sight chart I can now read some of the smallest print. I am getting to the stage where I can start to use my computer without my glasses. I have progressed from the almost largest print on my Kindle to the 3rd smallest.
I can easily read shop signs and road signs.
Not only that but my eyes feel relaxed for the first time in years. The stress around them has gone and I am still seeing daily improvement.
Nathan's logical approach and clear explanations of what to do and why it works distinguish him from many of the others I've tried over the years."
— Nancy S.
Your Instructor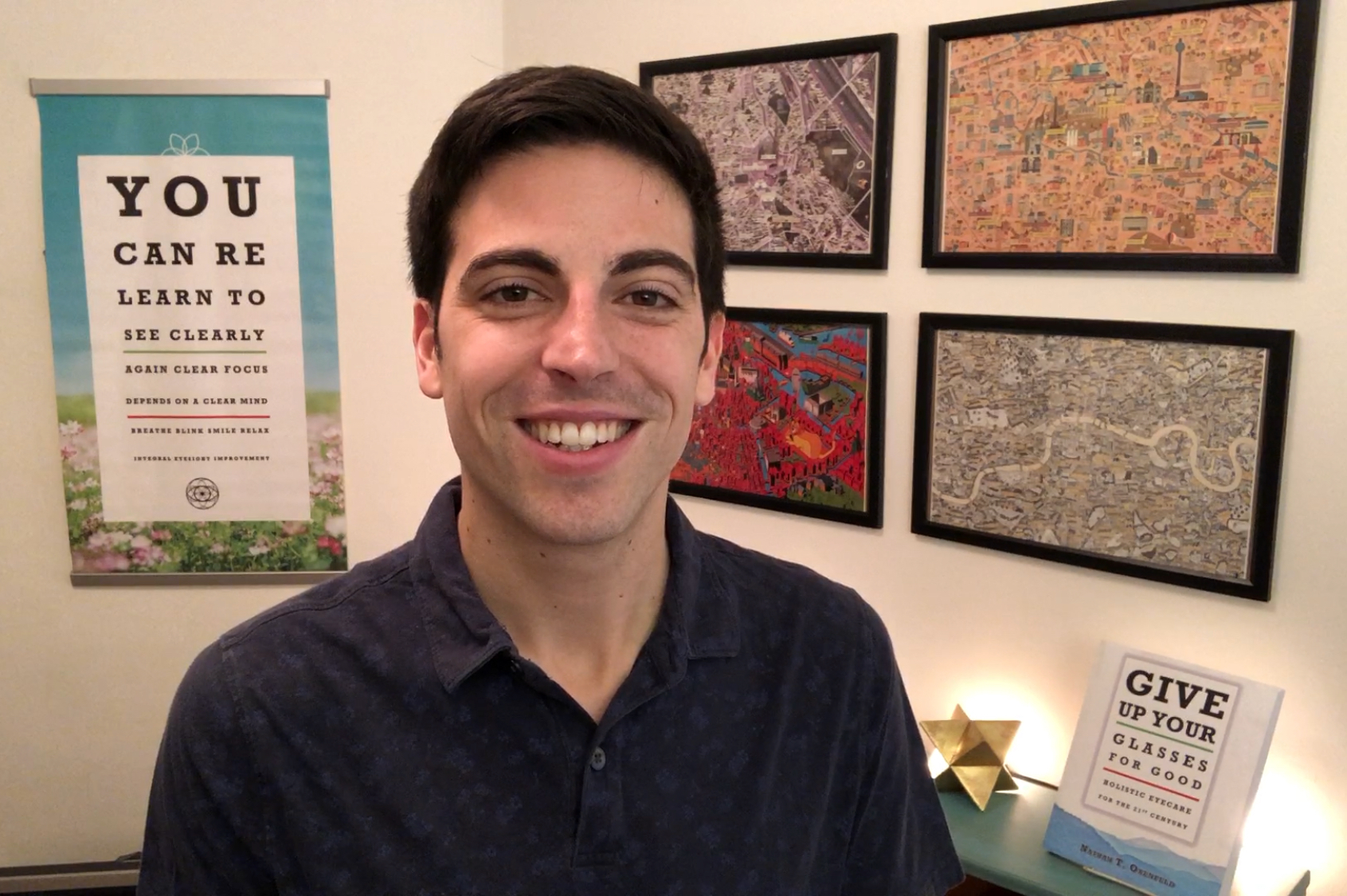 Nathan Oxenfeld founded Integral Eyesight Improvement LLC in 2013 after successfully improving his own vision using all natural methods. After depending on glasses and contacts every day for over a decade, he was introduced to the Bates Method of natural vision improvement. With time and practice, both his myopia and astigmatism decreased to the point of no longer needing glasses to see clearly. Once he saw the results in himself, he felt called to train to become a Certified Bates Method Teacher under his mentor Dr. Jerriann Taber, who has been teaching the Bates Method for over 45 years. Once certified, he opened his holistic eye practice in Asheville, North Carolina and began assisting others along their natural vision improvement journey.
In 2014 he launched his YouTube Channel called Bates Method 101, which has amassed 30 thousand followers and over 1.5 million views.
In 2015 he published his book Give Up Your Glasses For Good: Holistic Eye Care for the 21st Century and also launched The Naked Eye Podcast.
In 2016 he created the Holistic Vision Program to help people beyond Asheville learn the Bates Method in the form of an online course.
In 2017 he completed his first European Vision Tour and attended the International Holistic Vision Conference.
In 2018 he released an updated edition of his book, and went on book tours across the United States.
In 2019 he created his 6 Month Vision Improvement Program and started The Better Eyesight Podcast.
In 2020 he released The Computer Eyes Program specifically for children who use screens for school, as well as the first documentary about natural vision educators called Vision 2020: From Eyesight To Insight.
Over the years he has spoken and taught nationally and internationally, has hosted multiple immersion-style vision retreats, and has joined the board of the Association of Vision Educators. Nathan has a deep passion for opening people's eyes to new possibilities with their vision.
As a student in this program, you will receive:
1 Vision Practice Video per month to watch on your own (6 total)
+
1 Group Vision Class per month to attend or watch the replay (6 total)
+
1-6 Private Vision Lessons for individualized one-on-one guidance
+
1 copy of Give Up Your Glasses For Good Paperback or eBook
+
Access to Members-Only Holistic Vision Community Facebook Group
+
Priority Email Support from Nathan
+
BONUS 6 Month Subscription to the Better Eyesight League
+
BONUS 6 Month Subscription to the Natural Vision Support Group
Course Curriculum
#0 - Welcome!
Available in days
days after you enroll
#1 - September 2021
Available in days
days after you enroll
#2 - October 2021
Available in days
days after you enroll
Frequently Asked Questions
When does the course start and finish?
The course begins in September 2021 and ends in February 2022.
How long do I have access to the course?
Forever! Even after the 6 month course ends in February, you'll still be able to access all the materials to review and repeat as much as you'd like (which is actually highly recommended!)
What if I am unhappy with the course?
Nathan is confident that you will gain improvements in your eyesight, your insight, and your life in general, which is why he always offer a 100% satisfaction and money back guarantee. If you are unsatisfied with your purchase, contact Nathan to discuss a refund.
When do I get my monthly vision training video?
You will get your monthly vision training video on the 1st Tuesday of every month, which will give you the entire rest of the month to review and repeat it until you've fully memorized and integrated the material before moving onto the next one.
When will we meet for the monthly live group classes?
Nathan teaches the live group vision class online on the 2nd Tuesday of each month, which will review the material from that month's vision training video and give you a chance to get your questions answered.
What if I miss a live group class?
All 6 of the monthly live group classes will be recorded and the replay will be posted to the course website for you to watch when you're free.
What will we do in our one-on-one vision coaching session each month?
In addition to the vision training videos for you to watch and the group classes for you to attend, you will also get a chance to meet with Nathan privately one-on-one throughout the process. The online coaching calls last about one hour, and you will be able to check in with Nathan to see how the program is going for you, what questions or challenges you have, and how to customize this process to fit your individual vision needs and goals. Having the one-on-one teacher-student interaction increases your motivation, inspiration, and accountability to make sure you get the full benefit and the fastest improvement. It is recommended you schedule your one-on-one vision coaching session with Nathan in the 3rd or 4th week of each month, once you have had a chance to watch the vision training video from the 1st week of the month and attend the group class from the 2nd week of the month.
How many one-on-one coaching sessions do I need?
Originally, everyone who signed up for the 6 Month Vision Improvement Program got 6 coaching sessions. However, due to the economic uncertainty brought on by the global health crisis, we now offer three different tuition tiers. You can either get the program plus 6 coaching sessions for $1795, the program plus 3 coaching sessions for $1495, or the program plus 1 coaching session for $1195. It is recommended to get 6 so that you and Nathan can work closely together each month. If you decide to start with 3 coaching sessions or 1 coaching session, keep in mind that you may always add additional coaching sessions in the future as needed.
Are you an eye doctor?
No. Nathan Oxenfeld is a certified Bates Method and Yoga teacher. He does not test or prescribe eyes, he simply offers eye education through guided instruction in and application of natural relaxation methods. The primary practice taught in this course, the Bates Method, was developed by an eye doctor named Dr. William H. Bates, who wrote the book Perfect Sight Without Glasses, published 11 years of Better Eyesight magazine editions, conducted over 40 years of medical research into natural approaches to eye care, and whose contributions to the field of vision science have assisted several thousands of people in preventing, reducing, and reversing many different kinds of vision problems over the past 100 years.
Ready to get started? There are two ways to enroll:
Pay In Full - 1 simple payment up front



Payment Plan - 6 monthly payments spaced out
Please contact [email protected] with any specific questions you have.
Thank you and I look forward to seeing you inside the program!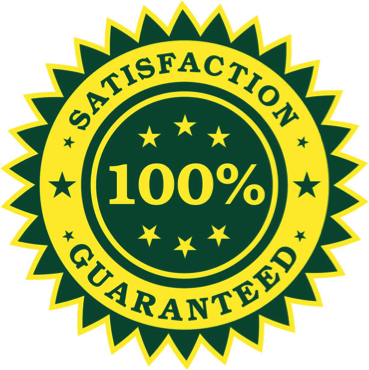 I am confident that learning and applying holistic eye care will dramatically improve your eyesight, your insight, and your life that I am offering a 100% satisfaction and money-back guarantee.